What is cow's milk allergy ?
- Cow's milk allergy is an adverse immunological reaction to one or more of the proteins in cow's milk

1
- Cow's milk allergy is the most common childhood food allergy.

2

It affects 2-7.5% of all infants1
- On average, infants acquire tolerance to cow's milk between 3-5 years of age

3-5
- Symptoms often start within the first few weeks of exposure to cow's milk protein
- Distressing symptoms and the constant need to avoid allergens can profoundly affect a family's quality of life

6
Immunopathogenesis of cow's milk allergy



Proteins in cow's milk activate the infant's immune system and with an allergy, it triggers inflammation and a variety of allergic symptoms.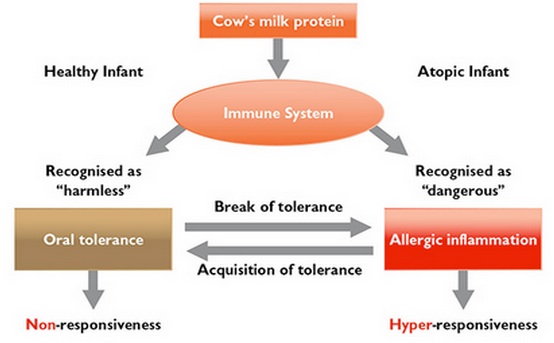 Cow's milk proteins can cause an inflammatory response in two ways:
IgE reaction
- Triggered by cross-linking of mast cell-bound IgE antibodies
- Usually an immediate reaction


Non IgE reaction
- Triggered by activation of antigen-specific T-cells
- Usually a delayed reaction
Read more about IgE and non-IgE reactions

References
Vandenplas 2007

Skripak 2007

Host 2002

Santos 2010

Canani 2013

Cummings 2010

Crittenden 2005

DuToit 2010